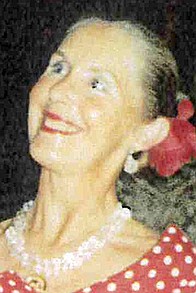 PUGH
Glenda Pugh, 89, of New Bloomfield, passed away on Wednesday, November 15, 2023, at her home on April Hills Farm.
On October 5, 1934 Glenda was born to the late Eldon Poteet and the late Roma (Reynolds) Poteet.
She was united in marriage to Donald "Dale" Pugh on May 14, 1965 and he preceded her in death on February 11, 2008.
In high school she worked in fashion doing design and modeling. She then received her associate degree in arts at Stephens College. Glenda raised, bred, and trained American Saddlebred Horses. She was inducted into the Audrey Gutridge Hall of Fame for Women Horsemen. She was also a lifetime member of the United Professional Horsemen Association and inducted into their hall of fame as well.
In addition to her parents and husband, she was preceded in death by her step-son, Don Pugh Jr.
Graveside services were held on Friday, November 17, 2023 at Hopewell Baptist Church Cemetery, New Bloomfield, Mo. with Dr. Bobby Snow officiating.
Memorial contributions can be made to Maupin Funeral Home to be split between the Saddlebred Rescue and William Woods Equestrian Program, c/o Maupin Funeral Home, 301 Douglas Boulevard, Fulton, MO 65251.
Condolences can be left for the family at www.maupinfuneralhome.com.
Published November 18, 2023