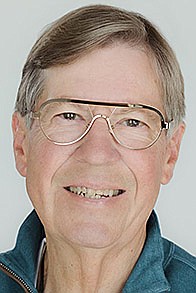 BACKER
Mike Backer, beloved husband, father, friend and community servant, died peacefully surrounded by his family at home in New Bloomfield, Mo., on Saturday, May 20, 2023, after a valiant battle with cancer.
Fred Michael Backer was born June 4, 1949, in Jefferson City, the son of Fred Smith Backer and May Susan Christian Backer. Mike graduated from New Bloomfield Public Schools and attended Southwest Baptist University.
Mike and Gracia Yancey Backer were wed on June 17, 1971, at First Baptist Church in Fulton, and she survives at the home.
Mike is also survived by his son, Justin Brown Backer (Sheila) and granddaughters Brooklynn Souder and Adison Souder, all of New Bloomfield, and numerous cousins.
Mike became a Christian at age 10 when he joined Providence Baptist Church, where his great-great-great-grandfather, the Rev. James S. Suggett, was the first permanent pastor of the church founded in 1826, soon after Missouri statehood. Mike was ordained as a deacon at Providence Baptist, and he served as its treasurer for 30 years and as song leader for 41 years.
With a life-long commitment to Callaway County and Mid-Missouri, Mike was proud to serve in many community business, leadership and volunteer roles, in addition to serving honorably in the Missouri National Guard for seven years.
In 1972, Mike became the Manager of First National Bank of Callaway County in New Bloomfield, and from 1975-82 he was employed at United Missouri Bank of Jefferson City, including two years serving as President. Mike also worked for more than a decade as a marketing professional for both Check Office Equipment and Computer Service Professionals, Inc., of Jefferson City.
From 1993-2005, Mike was honored to serve in Gov. Mel Carnahan's administration as Director of Administration and Chief Financial Officer for the Missouri Department of Revenue.
Mike retired in 2022, after serving 17 years as President of the nonprofit Missouri Colleges Fund, a role in which he raised more than $8.7 million to help college students achieve their dreams. Mike also served on the Board of Trustees at his alma mater, Southwest Baptist University.
As a community volunteer, Mike was a member of the Callaway County Historical Society and a charter member of the New Bloomfield Area Historical Society. Mike was Past President of the New Bloomfield Lions Club and a member of the Rotary Club of Jefferson City West.
A strong Democrat, Mike was an active and hard-working member of the Callaway County Democrat Club and he served for many years on the Callaway County Democratic Central Committee. Mike was Gracia's most steadfast supporter, protector and fountain of encouragement during her career in public service, including Gracia's election and tenure as the first female Majority Floor Leader in the Missouri House of Representatives. Mike was truly Gracia's pillar of strength.
Mike was Past Master of New Bloomfield Masonic Lodge #60 and a member of Jefferson Masonic Lodge #43, Columbia Scottish Rite and Moolah Shrine Temple of St. Louis. He was Past President of Capital City Shrine Club and was devoted to helping children receive care through Shriners Hospital in St. Louis.
Mike loved golf, and he looked forward to playing daily in retirement at his favorite course, Meadow Lake Acres Country Club. Mike and Gracia also treasured riding their Harley-Davidson motorcycles for about 10 years and had many memorable trips with friends. And Mike loved driving his 2020 Corvette C8 hardtop convertible.
Pallbearers are Jerry Abbott, Tim Berry, Dale Cuno, Ron Elliott, Sam Gaines and Scott Williams. Honorary pallbearers are Former Gov. Roger Wilson, Dale Backer, David Christian, Joe Christian, Lynn Forsee, Wesley Walker and Jim Yancey.
The family is deeply grateful to the wonderful staff of Gentiva Hospice of Jefferson City for their devoted care of Mike.
Mike's funeral service is scheduled for 4 p.m. on Wednesday, May 24, at New Bloomfield High School Gymnasium, 307 Redwood Drive, with The Rev. Frank Whitney and The Rev. Ken Mathes officiating. Burial will follow the funeral at Old Providence Cemetery in New Bloomfield.
Expressions of sympathy may be made to the Providence Baptist Church Building Fund P.O. Box 157 New Bloomfield, Missouri 65063 or Shriners Children's St. Louis, 4400 Clayton St. Louis, Missouri, 63110
Arrangements are under the direction of HOUSER-MILLARD Funeral Directors, 2613 West Main Street, Jefferson City, Missouri 65109 (573) 636-3838.
Condolences may be left online for the family at www.millardfamilychapels.com.