Jennie Hirschman
January 28, 2023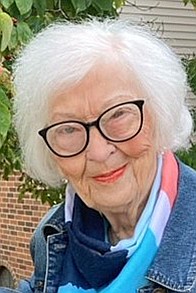 Jennie Lou (Clatterbuck) Hirschman, of Jefferson City, Missouri, died on Sunday, January 22, 2023.
She was born December 26, 1928, in Callaway County to the late Waller and Myrtle (Farmer) Clatterbuck.
In March 1948, she was united in marriage to Alfred "Bud" Hirschman. They celebrated 68 years of marriage on March 15, 2016.
Jennie graduated from Fulton High School, Class of 1947. She was a member of First Baptist Church in Jefferson City. Her first job was at Southwestern Bell Telephone Company. She retired from Missouri State Government after 27 years. Jennie then went to work selling some of her favorite things, diamonds and gold. She retired from Kaiser's Jeweler after 15 years.
When Jennie was younger, she loved sewing for her family. Her girls wore very few store-bought clothes. Decorating was always going on in the home, as she was always changing the look. She enjoyed gambling, horse-racing, and the St. Louis Cardinals. Her passion was making the most of every day and sharing the joy with family and friends. She will be missed by so many.
She enjoyed many Naval reunions across the country with her husband, Bud. Jennie loved to travel and gathering together with friends and truly loved cooking for and spending time with family, especially her grandkids and great-grandkids. Jennie's love of life, strength, wisdom, and integrity is a rich heritage for her surviving family.
Jennie is survived by her daughters, Janice (Ed) Meldrum and Missy (Brad) Dulle; grandchildren, Heather (Mitch) Herigon, Dalton Rodriguez (Kristen), Rob Meldrum, and Ben (Jeni) Meldrum, Eastin Dulle (Ben), Devin Dulle, and Shay (Chelsie) Dulle; great-grandchildren, Hunter and Zach Herigon, Wyatt, Hattie, and Hudson Meldrum, Emilia and Clella Schneider, and Harpor Dulle; sister-in-law, Maxine Powell; and many nephews, nieces, extended family and friends.
She was preceded in death by her husband, Bud; sons, Rick and Mick Hirschman; sister, Gin Conner; brothers-in-law, Bill Conner, Larry Hirschman, Wayne Powell, Bob Debo, and Doug Bard; and sisters-in-law, Bonnie Hirschman, Joanne Bard, and Ruby Debo.
A funeral service was held on Friday, January 27, 2023 at Houser-Millard Funeral Directors with entombment directly following at Riverview Cemetery Mausoleum.
Expressions of sympathy may be made to St. Jude Children's Research Hospital or Central Missouri Honor Flight.
Arrangements were under the direction of HOUSER-MILLARD Funeral Directors, 2613 West Main Street, Jefferson City, MO 65109, (573) 636-3838.
Condolences may be left online for the family at www.millardfamilychapels.com.