Local officials and rotarians dedicated symbols of peace recently added to two Fulton parks.
Fulton rotarians purchased two peace poles — one for each Memorial and Veterans parks — with the message "May Peace Prevail On The Earth" in four languages. Rotary and city officials dedicated the poles on Wednesday.
Each pole contains the message in English, Pashto, Kiryarwanda and Spanish.
Pashto is to represent the recent refugees from Afghanistan who have settled in Fulton; Kiryarwanda is a connection to Rotary's work with people in Rwanda; and Spanish is to represent the area's Hispanic population.
Rotarian Bob Hansen said the history of peace poles dates back to Masahisa Goi who witnessed the atomic bombings in Hiroshima and Nagasaki. Goi dedicated his life to spreading the message, "May peace prevail on earth."
The first peace poles outside of Japan were constructed in 1983. Now there's over 200,000 in close to 200 countries.
Hansen said the message challenges people to become peacebuilders.
"How do we do this? We start with making peace with ourselves – finding inner peace, then we spread it to our family, our friends, our neighbors, our community, and to the world," he said. "We resist the impulse to vilify others and, instead, to focus on those things we have in common, not in our differences."
Ernest Mahoro, who immigrated from Rowanda and settled in Fulton, said in order to understand peace, somebody has to live somewhere there is no peace.
"Peace improves our communities, individual lives," he said. "It helps us to embrace diversity and support one another, wherever possible. It is giving up your seat to someone in need on the bus. It is paying for the coffee of the person standing behind you in line."
For the work the Fulton Rotary Club's Peacebuilders Committee put into getting the poles along with other projects, the Rotary District recognized board members with a peace pin.
"Not only was the Fulton Club one of the first and largest peacebuilder committees to form in the District, it has showed exceptional leadership," district officials said in a statement. "Its 2020-21 books for peace project inspired a districtwide book project that distributed hundreds of books on peace and conflict resolution to libraries and Little Free Libraries all around the state.
"It was one of the first Rotary clubs to welcome Afghan refugees to the state and build networks of support. And its current Peace Poll project will help to ensure that peace continues to be a focus of community discussion here in Fulton. We celebrate your leadership and look forward to hearing what you accomplish in the future."
Committee members Bob Hansen, Jennifer Books, Jill Gamlin, Joan Morris, Jan Reyes, Bob Sterner and Sherry McCarthy received a peace pin for their work.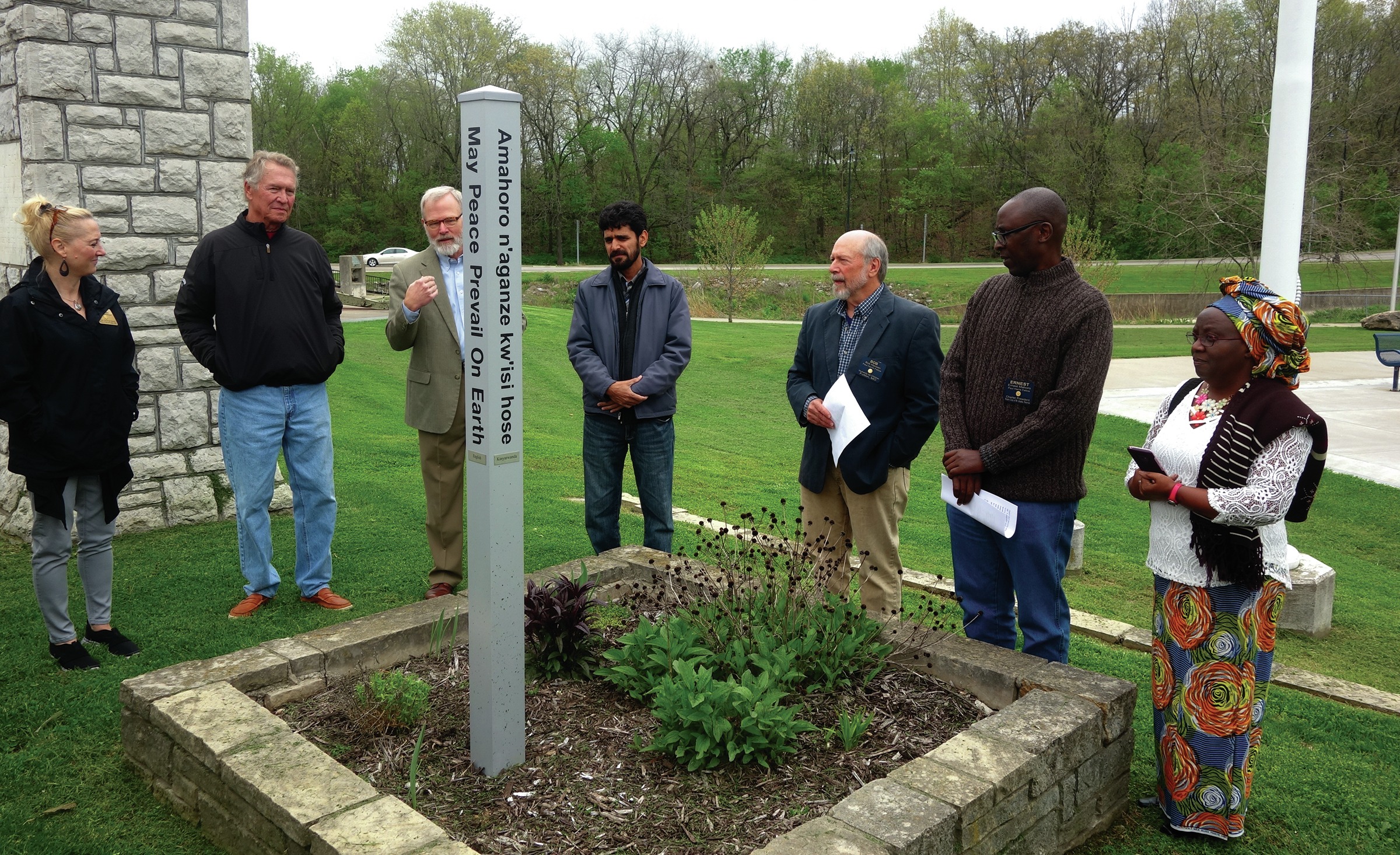 Local rotarians father around the club's new peace pole in Memorial Park during a dedication ceremony on Wednesday. MICHAEL SHINE/FULTON SUN