Despite a dry morel season, Fulton's Morels and Microbrews festival was full of happy faces.
The annual festival offered many beers to sample, fried morels by the quarter-pound, mushroom soup and more to morel aficionados.
Fiona Basinger, 2, was among the newest and youngest mushroom fans. Her parents, Jeff and Sabrina Basinger, drove from Columbia so she could try her first morels.
"She just woke up from a nap, and she was a little cranky, but these morels are her favorite thing right now," Jeff said.
After last year's festival-distrupting monsoon, visitors and vendors alike were eager to take advantage of the sunshine and low-60s temperatures.
"The day is beautiful - it's definitely a nice change from last year," Bonnie Close, of Jefferson City, said. "We've got our mushrooms, everyone's in a good mood and it's a great atmosphere."
Despite last year's storm, Lori Hargas and son Tanner said they were glad to return this year. Lori makes morel-themed art, including tiny terracotta morels. She starts working on a big batch in the fall and fires them in the spring.
"They're painted nine times," she said.
Lori said she loves morels because they're so delicious.
"My favorite way to cook them is sauteing in butter," she said. "You get to enjoy the full flavor. They're like a good steak."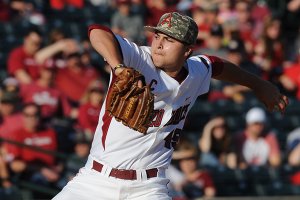 Photo by Andy Shupe
Arkansas starter Jalen Beeks delivers a pitch against Vanderbilt during the first inning Saturday, April 19, 2014, at Baum Stadium in Fayetteville.
Fred Williams and his family drove from California, Missouri, to nosh on fried morels. He said his family enjoys hunting the elusive mushrooms.
"They're even better with some fried crappie," he added.
Rod Dothage, brewer for Jefferson City-based Prison Brew, said he enjoys chatting with festival patrons.
"Beer makes people happy," he said.
Tasting started at noon. Three samples and 15 minutes in, Ken Gierke said Flat Branch's Helles Bock was his favorite so far.
Not everyone was entirely happy, however. Shawn Berry, this year's mushroom supplier, said he only managed to scrape together 260 pounds of morels - far short of the 400 pounds he hoped to bring.
"Even in the Pacific Northwest, it's not producing like it should," he said. "The Midwest isn't producing because of the snow in April. Murphy's Law kicked into effect this year."
His team scoured hundreds of acres and bought as many as possible, he said.
He tapped into his own stash to make sure there were enough mushrooms to fry, but was still short for the planned morel auction. Berry set up a reservation list for those unable to land 'shrooms at the auction.
"I'm going to be serving Morels and Microbrews patrons before my other customers," he said. "I came out here to face the music."
Tom Riley, a Fulton lawyer who volunteered at the festival, said there were still people looking for morels Saturday morning. He counted the festival a success.
"This is our biggest crowd, for sure," he said.
Some of this year's proceeds will go toward continuing to renovate the Brick District Playhouse, Riley added.
"Morels and Microbrews helped Creating Unkamen buy the Blattner Building," he said. "It makes a big difference for Fulton."