The decor may be mid century, but there's a thoroughly modern menu at KACO The Kitchen.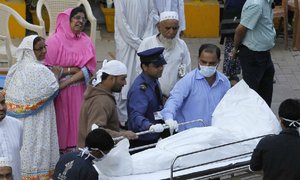 Photo by ASSOCIATED PRESS
An Indian Muslim woman cries near the body of a victim killed in a stampede in Mumbai, India, Saturday, Jan. 18, 2014. A pre-dawn stampede killed more than a dozen people Saturday as tens of thousands of people gathered to mourn the death of the head of the Dawoodi Bohra Muslim community Syedna Mohammed Burhanuddin in India's financial capital, police said. Burhanuddin died Friday at the age of 102. (AP Photo/Rajanish Kakade)
The new "eat in, take out or get delivery" eatery at 600 Commons Drive in Fulton employs a decor filled with splashes of color, gathering spaces and fascinating touches. Recently opened by Cindy Baker of Errand Runners fame, this new venture gives hungry people a place to hobnob and dependably delicious food.
"Older" Fulton High School grads might do a double take upon seeing the bright orange chairs nested next to round tables.
"Michael Williams did all the construction," Baker said. "The orange chairs are from the Fulton High School cafeteria from the '70s. He knew where they were."
Those orange chairs pair with soft grey walls and stunning laminate counters which image a city scape, mirroring the modernistic theme. The same design climbs up the wall behind the main countertop - which came from materials left over when the counter project was complete.
While the decor is fun, the rotational menu is even more so. There are comfort-type dishes - shepherd's pie, stuffed pork loin and roasted vegetable meatloaf served with KACO's mashed potatoes and a signature glaze.
There are meals with Asian influences - Mandarin chicken salad and Korean beef with soba noodles, to name two.
There's a nod to Italy with roasted red pepper Alfredo, lasagna and Mediterranean flatbread.
Meat eaters, vegans and vegeterians will be content.
"We're ordering in a line of tea that's organic and kosher," Baker said referencing fresh, whole leaf teas from The Tea Spot of Boulder, Colorado. "There are all sorts of flavors - coconut, chocolate and they have a Boulder Breakfast tea."
Sitting neatly on shelves next to the front counter are clear jars of loose herbs and spices, too, ordered in bulk from a company named Starwest Botanicals. People can fill glass containers for purchase.
Baker opened a jar of smoked salt to show off the scent, then a jar of smoked paprika.
"These are what we use in the kitchen," Baker said. "I ordered in all the things I was driving to the city to get."
Fridays are Springfield cashew chicken day. About 70 orders of this once-a-week special go out the door, so people need to get in early. Also pick up a coconut macaroon to follow up the meal.
In the kitchen creating all this good stuff is Baker's mother, Deborah Lee. The kitchen at KACO is her domain.
"Cindy and I have a really extensive restaurant background," she said. "That becomes the norm; eating good food becomes the norm. It's the finesse of food. You become accustomed to that after so many years."
Finding a balance for the new business and personal life is still evolving, but Baker is almost too busy with the venture - catering, delivery, boxed lunches, event space for 65 and more - to take a day off.
"We've got a lot of clubs coming in and meeting," she said. "The advantage of us having this cooler (of prepared meals) is people who want to eat at a meeting can or they can grab dinner and take it home after the meeting. It takes the whole 'What are we having to eat?' question out of the equation."
There is no alcohol for sale - but a carry-in license and special event permits are in the picture.
She's had birthday parties, class reunions and more. Private, in-home dinners also can be catered. In fact, catering services to a group camping on private land near Tebbetts for the Aug. 21 eclipse are planned.
"We moved in in January and had our first event in May," Baker said. "Then we finished construction, and seven weeks ago, we opened for carry out. We're letting the word spread organically through Facebook."
Baker points at a large white board covered in handwriting.
"We've already booked dates into 2018," she said, laughing. "It's taken on a life of its own."
For more information, call 573-826-3334 to place an order Monday-Friday, or Errand Runners at 573-220-0177 to learn more about those services, too.