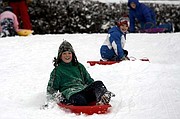 Visitors to Fulton's Memorial Park, near the roundabout, are now able to connect to Wi-Fi while at the park - free of charge.
Socket, a Missouri-based telephone and Internet service provider, partnered with the City of Fulton to create a free Wi-Fi hotspot in the park near Fulton's downtown area. The city will not have to pay Socket for the Wi-Fi.
Fulton Utilities Superintendent Darrell Dunlap said the city had previously talked about establishing a Wi-Fi hotspot somewhere in town. Memorial Park, he added, sees a lot of visitors due to the baseball field, playground and splash pad water feature, which the city added last fall.
"It seemed to be a natural fit," Dunlap said of selecting Memorial Park for the Wi-Fi hotspot.
Dunlap added that he has frequently noticed parents utilizing their phone while at the park with their children as well as others using technology while at the park.
Socket, Dunlap said, has "been a great partnership." He added that the company was easy to work with on this project.
In exchange for the free Wi-Fi service, the city will hang a sign up at the park to advertise that Socket provides the free Wi-Fi. Allie Schomaker, Socket's marketing manager, said the Internet service provider is hoping that providing this service at the park will give potential customers an opportunity to test out the company's service.
"We're really excited," Schomaker said. "(This Wi-Fi hotspot) allowed us to get our name out there."
Schomaker added that since Socket already had a fiber cable network running through the city, it made sense to set up a Wi-Fi hotspot. Socket, she said, had to run a line from its existing network to the park's shelter area, where the router for the network is housed.
Socket and the city began talking about the possibility of offering a free Wi-Fi hotspot mid to late last year, Dunlap said.
Socket hosted a ribbon cutting and grand opening event Thursday to promote and celebrate the addition of free Wi-Fi at the park. The grand opening event included free food and a bounce house for children visiting the park. Schomaker also briefly discussed the company's Internet service during the ribbon cutting ceremony.
"You can feel free to hook up your smartphone or your tablet or your laptop and have the Internet right at your fingertips," Schomaker said during the grand opening. "We're hoping you'll love the convenience of having Internet access right here at the park."
Fulton Mayor LeRoy Benton echoed Dunlap's sentiments during the grand opening event. He thanked Socket for a "great partnership" and for providing free Wi-Fi at the park for Fulton residents to utilize. Also during the grand opening event, Schomaker thanked Dunlap and the city's IT staff, whom she said were "instrumental" in getting the Wi-Fi at the park.