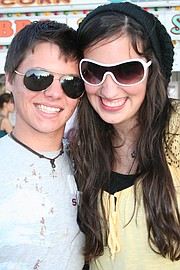 A week from today a local boy and his mother will leave Fulton for Florida in hopes that a specialized radiation treatment will attack what's remaining of the boy's cancer.
Sam Santhuff, 5, and his mother, Cassie Santhuff, will live in Florida for a month so Sam can receive proton therapy from the University of Florida Proton Therapy Institute in Jacksonville.
Sam was diagnosed with rhabdomyosarcoma - a rare form of cancer - on Aug. 26. The cancer started developing on Sam Santhuff's nostril and spread underneath his cheek.
Rhabdomyosarcoma, according to U.S. National Library of Medicine, is a cancer of muscles attached to bone. The library also states the cause is unknown and only about 300 cases, typically children ages one to five, are diagnosed in the U.S. every year.
Cassie Santhuff said the location of the cancer on Sam is even more rare, but his prognosis is good.
Proton therapy, according to the institute's website, treats cancer with "high accuracy, allowing for favorable outcomes with a low risk of side effects."
Cassie Santuff said insurance is paying for the high cost treatment, but she and her husband, Matt Santhuff, are left with a $10,000 deductible they must pay upfront. Cassie Santhuff has taken a leave of absence from her job as a manager from Aldi, the grocery store chain, to care for Sam and has not received her typical paychecks.
The medical bills and travel expenses are adding up and two churches in Fulton are pitching in to help the Santhuff family out.
First Christian Church and St. Peter's Catholic Church have teamed up for a chili and hot dog supper fundraiser on Saturday, Jan. 4. The fundraiser will be held at St. Peter's from 5 p.m. to 8 p.m.
The fundraiser includes a silent auction with donations from Smockingbird's, Well Read Books and Aldi among other area businesses, 50/50 raffle and bake sale. Ed Varnum, pastor at First Christian Church, along with his daughter, Nautica, and Shannon Cerneka, music teacher at St. Peter's, will perform live music.
Heather Patten, director of youth ministry at First Christian Church, said the two churches coming together has created a strong force behind the fundraiser and supporting Sam.
"It's been amazing watching it all come together," Patten said.
When Sam Santhuff feels strong enough to attend church, Patten said he's energetic and is always wearing a smile.
"He's taking (cancer) like a man," Patten said.
Through his battle, Sam has gotten the nickname "Super Sam." His grandmother embroidered the Superman symbol on a cape for him, which he wore to his first day of treatment.
Super Sam T-shirts are available for $15. The family receives no financial gain from them. The only purpose of the shirts is to show support for Sam.
That's why Cassie Santhuff has one request for those ordering shirts: send her a picture wearing the shirts. She said Sam enjoys seeing people in the shirts, and she's working on a collage of the pictures she receives for her son.
More information on the shirts can be found on the home page of St. Peter's website at www.stpeterfultonmo.org under "Parish News." To order a shirt, email Cassie Santhuff at [email protected].
For more details on the fundraiser, go to the event page on Facebook: Benefit for Super Sam Santhuff. To reach First Christian Church, call (573) 642-6635. The phone number for St. Peter is (573) 642-5562.